Rules of participation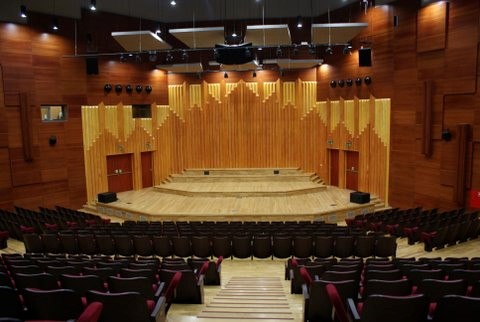 1. XVIII International Choir Festival "Gaude Cantem" will be held on 19-22 October 2023 in both, stationary and online form.
2. Only amateur choirs which had submitted an application form can participate in the Festival.
3. The closing date for submitting the application form is 20 August 2023.
4. The application form must be submitted via e-mail:gaudecantem@gmail.com
The application form must be accompanied with a current recording and photo of the choir (the basic of the photo should not have less than 2000 pixels).
5. Choirs may participate stationary in the workshops and/or in the competition and they are obliged to participate in festival concerts. In online form, groups may participate only in the Competition.
6. Choirs may declare their participation only in festival concerts.
7. Choirs participating in the stationary Festival are obliged to participate in Friday's inauguration concert of the festival- they prepare one sacred piece ( about 1 minute).
8. To participate in the Festival, the choirs will be selected by the Artistic Council on the basis of the application form and choir's recordings of at least two songs (recorded not earlier than within the last two years) sent by e-mail (link) or by post on CD/DVD.
9.The list of choirs selected to participate in the Festival (Workshops, Competition, Festival Concerts) will be published on the Festival's website not later than on 31August 2023.
10. Choirs qualified to participate in the festival pay a registration fee of 500 PLN.
11. The choirs which belong to the Bielsko-Biała Department of the Polish Association of Choirs and Orchestras pay 50%of accreditation fee, and taking part in festival concerts only, are exempt from the accreditation fee.
12. The payment shall be transferredto the organizers' bank account IBAN: PL 79 1030 0019 0109 8530 0022 1704, BIC (SWIFT): CITIPLPX not later than on 15 September 2023 (date of crediting the account). In the event of choir's later resignation from participating in the competition, the fee will not be returned. The bill will be issued after receiving the payment.
The organizers provide:
1. Certificate of participation for each choir taking part in the Festival.
2. Dinner for groups taking part in workshops on 19-20 October 2023.
3. Dinner for the groups participating in the stationary Grand Prix Competition on 21st October 2023.
4. Refreshments after festival concerts.
5. Optional programs
6. CD with recorded competition performances.
7. Assistant for each group for the time of duration of the Festival.
In order to facilitate getting to concert locations, the choirs should use their own means of transport or the means of transport rented by the organizing committee at choir's expense.
The organizers do not take responsibility for illegal performing of the music (copyright) and law activities connected with it.